Ganesh Chaturthi Pooja Pack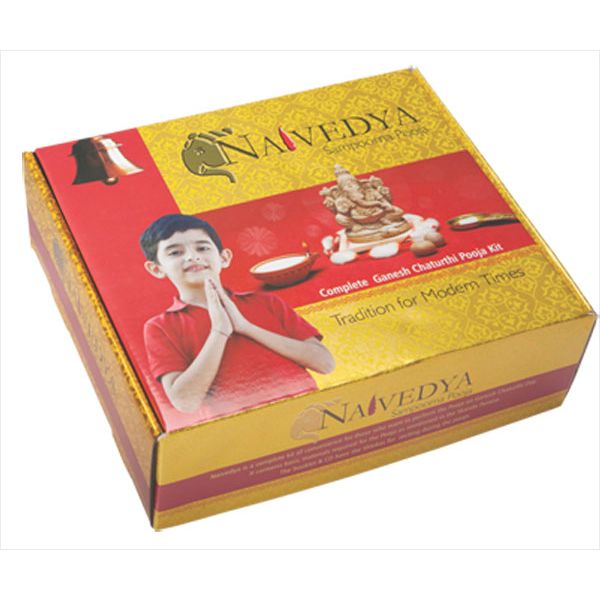 Invoked at the beginning of new journeys or ventures, Lord Ganesha is the God of wisdom and remover of hurdles. For your convenience Cycle Pure brings you Naivedya Ganesh Chaturthi Pooja Pack. A pack especially designed to perform Ganesh Pooja, during the festival of Ganesh Chaturthi in the most concise and precise way within the environs of your homes and business setups with ease.
This convenience pack contains all the essentials to conduct the Pooja as mentioned in the Skanda Purana. An Audio CD, the highlight of this pack is created with great care under the guidance of learned scholars, purohits and in tandem with sacred scriptures. This all-encompassing pack is curated to bring to you the shloka's chants that you can follow with ease and recite yourself. It also gives you a step by step guide of performing the Ganesh Puja with proper methodology. The pack also contains an eco-friendly earthen Ganesh idol, for visarjan. Ideal for the new generation, this pack helps them follow the sacred traditions in an effortless way.

The festival of Ganesh Chaturthi is celebrated to mark the birthday of Lord Ganesh, falls in the month of Bhadrapada (August – September). The festival begins with the installation or sthapna of the idol on Ganesh Chaturthi day which is decorated and worshipped. The same maybe kept and worshipped for a maximum of 11 continuous days, culminating with Visarjan. Visarjan, an important part of the Chaturthi festival symbolises replenishing our spiritual reserves and to remind us that material wealth is transitory and is of no use to the soul or spirit, which is permanent.

Bring home the Naivedya Ganesh Chaturthi Pooja pack and invite the supreme divine to bless and grace your homes.

Brand: Cycle
Product Code:

PK-Ganesha

Availability:

In Stock