Lakshmi Pooja Kit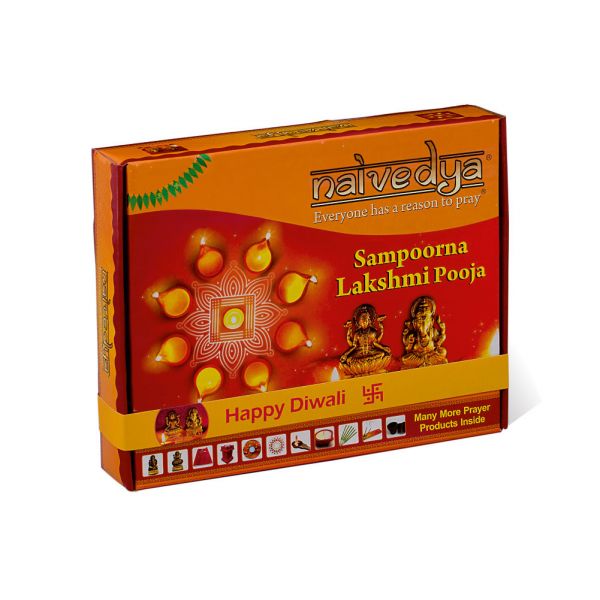 For your convenience Cycle Pure brings Sampoorna Lakshmi Pooja Pack. A pack, especially designed to perform Laxmi Pooja on Fridays and specially during the festival of Diwali in the most concise and precise way, within the environs of your homes and business setups.
The pack contains all the necessary pooja materials. An Audio CD, the highlight of this pack is created with great care under the guidance of learned scholars, purohits and in tandem with what is laid out in the sacred scriptures. This all-encompassing pack is curated to bring to you the shloka's chants that you can follow with ease and recite yourself. It also gives you a step by step guide of performing the Lakshmi Pooja with proper methodology. Ideal for the new generation, this pack helps them follow the sacred traditions in an effortless way.

Lakshmi Pooja is an important ritual performed during the festival of Diwali, inviting Goddess Lakshmi to bless our home with peace, abundance and fortune. Friday is also believed to be the most auspicious day for her worship.

Bring home the Goddess of Wealth with Sampoorna Lakshmi Pooja Kit and invite the supreme divine to grace your homes.
DUE TO IMPORT RESTRICTIONS ON MATCH BOX AND CAMPHOR IN THE US, THIS PRODUCT DOES NOT CONTAIN THESE 2 ITEMS. REQUEST TO PURCHASE THEM LOCALLY AND USE FOR YOUR PRAYER.
Brand: Cycle
Product Code:

PK-LAKSHMI

Availability:

In Stock
Tags:Lakshmi Pooja Kit, PK-LAKSHMI, cycle